Post by Arjan Hut on Jul 14, 2020 6:53:39 GMT -5
This is a column that I wrote for radio/tv station Omrop Fryslân on 7-14-2020. It is about the murder of four Dutch journalists in El Salvador in 1982. The accused murderer is Colonel Mario Reyes Mena, who has fled to the USA and currently lives in Virginia. One of the journalists was Koos Koster, who went to school in Leeuwarden. There's a poem in the pavement next to the school, written by one of his former classmates and it mentions the rain of bullets in El Salvador. In 2018, Mena was located in the USA by other Dutch journalists. He is still living in freedom and has not yet been extradited.

The original column can be read and heard here:
Wurden Arjan Hut Omrop Fryslân

This is a rough translation:

Words

A colleague / poet calls the poetry tableaus of Leeuwarden 'tombstones'. And they look like that too, they are heavy concrete slabs with text. They lie gray in the sidewalk. Especially the gloomy stone of Jean Pierre Rawie next to the cemetery on the
Spanjaardslaan
has the character of a tomb monument. It smells like death there too.
Next to the Beyers Naudé gymnasium is also a tableau. On this is a poem by Koos Hagen,
De Gelukkige Klas
(The Happy Classroom). "We were alphas, making noise / filling school newspapers and classrooms," it begins. Hagen attended this school and recalls memories of his classmates
H.
and
K.
H. was ill and died in bed. About K. the poet writes: "as before in every free hour / he fell through bullets in El Salvador."
K. was Koos Koster, journalist and specialist on the Cold War. He wrote as a correspondent about East-West relations and how they led to fear and oppression. In '82 he was covering the war in El Salvador with three colleagues of Dutch television. There, the people fought against a US-backed military regime. According to the regime, the Dutch camera crew was producing communist propaganda because they were also talking to the insurgents. The four journalists were lured into an ambush and shot dead.
The war would rage on for another ten years. A special United Nations Commission investigated the killings and discovered that Colonel Mario Reyes Mena was responsible for the organizing and carrying out of the ambush and execution of the four journalists. The Colonel escaped to the United States.
Only in September 2018, journalists from the Dutch TV program
Zembla
managed to track down the killer. He lives in Virginia, not far from Washington. They film and ring the doorbell at his place. The old warrior is angry and accuses the Dutch - almost thirty years after the fall of the Berlin Wall and the collapse of the Soviet Union - of being part of the great communist conspiracy with their questions.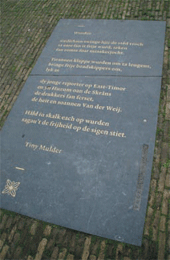 Tableau with the poem Wurden (Words) by Tiny Mulder
'Tyrants turn words into lies / kill free messengers', writes reporter/poet Tiny Mulder, who as a girl rebelled against the Nazis. "Keep a watchful eye on words as soon as freedom is at stake." You can read it on her poetry tableau on the
Turfmarkt
, next to the Chancellery. Dutch ministers, their mouths full of the importance of journalism in a constitutional democracy, have called for the arrest and prosecution of Colonel Mena. Their words have remained words, until now, and no more than that. Old news is just like poetry: it is very important to only a few people.
However, we will not forget Koos Koster and his colleagues Jan Kuiper, Hans ter Laag and Joop Willemsen. Among other things, poetry reminds us of them, on heavy monuments in the sidewalks of Leeuwarden, international city of literature. Or, as Tiny Mulder writes, 'Poems swing through this city / in honor of free speech, promise / of room for human rights.'